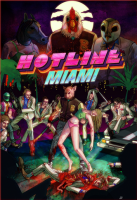 Hotline Miami is an action game developed by Dennaton Games and released on Mac OS, Microsoft Windows, and Linux. It was later ported to the Playstation 3 and Playstation Vita, which was done by Abstraction Games, with a Playstation 4 release planned for sometime in 2014.
The game is set in an alternate 1989 Miami, where the unnamed main character (nicknamed Jacket by fans) is sent out to rampage against the seedy underworld by mysterious voices left on his answering machine. You must murder everyone in your way, while finding out why you are doing these actions.
Hotline Miami Brainwaves
4th February, 0 replies

Hotline Miami 2: Wrong Number's release date may have been revealed today with a cryptic Tweet pointing...
Share Hotline Miami with others