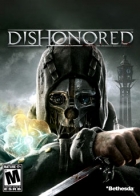 Dishonored is a stealth action-adventure game that is available on the PC, Xbox 360 and PlayStation 3. It was developed by Arkane Studios and is published by Bethesda Softworks. The game was released on October 9, 2012 in the US, October 11 in Japan, and October 12 in Europe.
Dishonored follows Corvo Attano, a legendary bodyguard who is framed for the murder of the Empress whom he was sworn to protect, and who works with a group called the Loyalists to restore the monarchy and have his revenge.
Dishonored Brainwaves
10th June, 0 replies

As we head into E3 Sony has decided to host a sale full of tomb raiding and steampunk. This week's...

10th May, 0 replies

Dishonored Definitive Edition is another collection title that has recently been rated by the Brazil...

17th April, 1 replies

Bethesda has started sending out invites for its E3 press conference. This will be Bethesda's very first...
Share Dishonored with others