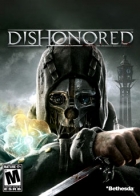 Dishonored is a stealth action-adventure game that is available on the PC, Xbox 360 and PlayStation 3. It was developed by Arkane Studios and is published by Bethesda Softworks. The game was released on October 9, 2012 in the US, October 11 in Japan, and October 12 in Europe.
Dishonored follows Corvo Attano, a legendary bodyguard who is framed for the murder of the Empress whom he was sworn to protect, and who works with a group called the Loyalists to restore the monarchy and have his revenge.
Dishonored Brainwaves
5 hours ago, 0 replies

Sony has announced the PlayStation Plus games for April. They are: Tower of Guns (PS3, PS4) ...

3rd March, 0 replies

It looks like a sequel to the critically-acclaimed stealth action/adventure game Dishonored could be...

18th February, 0 replies

Today Microsoft has kicked off a new sale. This sale includes a variety of indie and digital versions...
Share Dishonored with others