Drakengard 3 centralizes the two sisters, Zero and One, who are both able to manipulate magic through song. The game utilizes the same sword slashing combat characteristic of the Drakengard series, but with a new twist. New features have been added to the game, such as the ability to ride and control a dragon, as well as being able to battle on the ground with your dragon as a supporting character.
Combat
Combat in Drakengard 3 takes place in real-time and utilizes action RPG standards, such as being able to jump and dodge. Zero is able to equip four different kinds of weapons, with each one offering their own advantages and weaknesses. There is also air combat, as Zero can mount Mikhail to fight enemies while airborne.
Ground Combat
While on land, you control Zero who can do normal attacks, as well as charge attacks, which consume a stamina-like bar underneath the player's health. Zero can also jump and attack while in the air. She has the use of four kinds of weapons, which she can switch on the fly while in combat, and even during combos.
Dragon Combat
Zero is not alone when she goes into battle, as she has her companion, Mikhail, at her side. On the ground, Zero can mount Mikhail and bite enemies, as well as do a spin attack. Likewise, when alone, Zero can call in Mikhail to swoop in and do a fire attack on enemies. While in the air, Zero can use Mikhail to breathe fire and even swoop down to attack.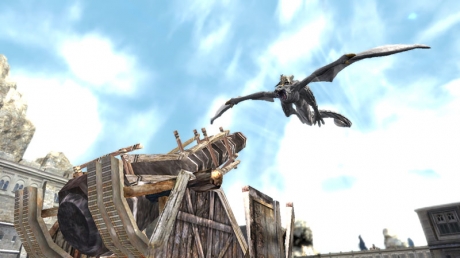 The player can also experience high-speed battles in the air, where they can weave in between buildings to dodge enemy attacks. Mikhail can lock on to enemies, even multiple ones, with the breath attack, as well as dodge using a barrel roll maneuver.
Intoner Mode
As Zero hits and kills enemies, their blood will begin accumulating on her body and the meter to the left of her health will slowly fill. Once it reaches the top, the player can activate Intoner Mode. While this is active, Zero's speed and strength are increased by a lot, enabling her to kill enemies quickly. Note that Intoner Mode can also be activated while riding Mikhail, giving his breath attacks more power.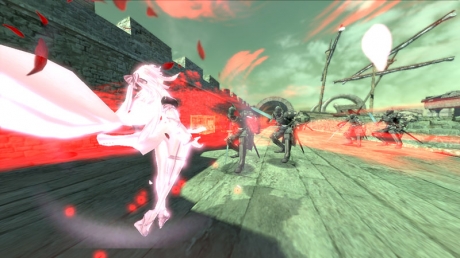 Apostles
Apostles are companions that Zero can bring into battle with her and she'll be able to find four of them over the course of the game. They are controlled by A.I. and each one has their own type of weapon they can use. However, Zero will only be able to bring two of them into battle at once.
Weapons
Zero is able to equip various weapons throughout her journey to kill her sisters, with there being four different types in all. These are Swords, Spears, Chakrams and Fist Weapons, and Zero will be able to upgrade them, as well as switch between them even when attacking to continue her combo. Each weapon type has its own distinct advantages and disadvantages in combat.
Swords - Very versatile and has a variety of attacks. Chaining combos is easy with these and your Blood Gauge fills quickly, making it quicker to use Intoner Mode.
Spears - Very powerful weapons that are slower than Swords, but each strike can pack a punch.
Chakrams - Best attack range and able to deal with large groups of enemies with these, although they may not be very powerful.
Fist Weapons - Best used one-on-one and is able to chain combos the easiest, although they're not as effective against multiple enemies at once.
Sidequests
As you progress through the game, you will unlock quests that you can complete, with the rewards based on your own performance. There are a variety of objectives to these sidequests, such as killing certain enemies or even unlocking treasure chests. Quests have restrictions, where you might only be able to use a sword or not being able to items, as examples.