Shin Megami Tensei IV is a Japanese-style RPG that is similar to its predecessors. While traversing the dungeons and overworld, the game is in third person, while battles take place in a first-person view. The game utilizes a demon negotiation/fusion system like in the past games.
When you first start the game and have access to your character, you will be able to explore Mikado Castle, the starting area. This area is only explorable via menus and you don't get to see your character. As the game progresses, the areas will become explorable, similar to the dungeons.
Character Status
Besides HP and MP, which should be self-explanatory, the main character and demons he recruits have stats they use for battles. In addition to those stats (listed below), each character/demon also has resistances to elements and physical attacks, which are displayed on their status screen.
St is Strength and affects the damage done by normal attacks and physical-based skills.
Dx is Dexterity and affects the damage done by physical and gun skills.
Mg is Magic and affects the strength of your magic skills.
Ag is Agility and affects a few things, such as accuracy, evasion, turn order and the success rate for escaping from battles.
Lu is Luck and affects critical hit chance, as well as recovery rate from status ailments.
Dungeons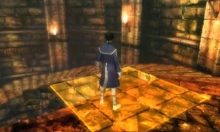 The first dungeon you explore is in the beginning of the game and the view is in third-person. When you first enter the dungeon, you will notice a large, yellow ring under your character. This appears whenever a point of interest is nearby, such as a sign to read, a ladder to climb, or a treasure chest to pilfer.
Burroughs, the AI in your Gauntlet, has a map you can access on the bottom screen, where you can see points of interests, such as stairs, chests and other things.
Encounters
Naturally, you will have to fight enemies in the game, but there are no random encounters. Instead, you'll see blue pixel-like monsters on the screen that function as the way to encounter enemies.
Similar to Persona 3, the main protagonist has a weapon he can use (whatever kind he has equipped) outside of battle to hit enemies with. Hitting the enemy with the weapon allows him to get a pre-emptive strike and if you don't, the enemies may get the first chance to attack.
Hazards
Dungeons may also have traps and other hazards inside them. There are such things as poisonous floors, where you will continually take damage, as well as ambushes, rest rooms and other Samurai in the dungeon.
Demons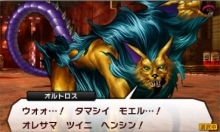 Demons are the enemies you will encounter during the game, but they are also the allies you can recruit/create. The second quest in the game will teach you how to negotiate with demons, which will grant you your first Demon ally.
To do this, you talk to it and they will usually ask you some questions, sometimes asking for Macca (currency) or items. Please them enough and they will join, but if you make them mad, they will attack.
When they're in your party, they will gain experience and level just like you do, learning Skills sometimes when they do gain levels. Sometimes, they will evolve into a different Demon when they level up. Another things Demons can do is teach you new skills, which will occur while leveling them up, which is called Skill Whispering.
Battle System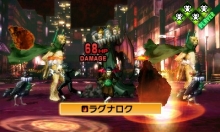 As already mentioned, battles are triggered when you hit one of the enemies on the map with your weapon, or they run into you. Battles take place in first-person view and you can have up to three Demons with you in battle.
Press Turn System
The game utilizes the Press Turn system that was present in previous titles. Whenever your character's turn comes up, the number of turns they have before the enemy gets theirs is indicated in the upper right corner. If you exploit the weakness of one of the enemies, then you will get an extra turn. For example, you encounter a Demon weak to Ice and use Bufu on it, getting you an extra turn. If you cast Bufu again on the extra turn, that will be one turn during your overall turn down.
Smirking
Another aspect of the battle system is Smirking, which can be activated to raise your character's stats if they achieve a critical hit during combat. It can also shield your weaknesses for a limited time. When you successfully complete a battle, you will earn experience that will go towards your character/demon's next level. Upon leveling up, they may learn new skills and you will be given points that can be allocated to the stats listed above.