Guacamelee! is a Metroidvania 2D platformer/action game, which means it features the gameplay hallmarks of the Metroid and Castlevania franchises, namely the ability to freely explore the 2D world and gradually open it up over the course of the game.
You play as Juan Aguacete as he begins his mission to rescue El Presidente's daughter as she is kidnapped by the undead skeleton, Carlos Calaca.
Dimensions
Another key element of the gameplay in Guacamelee! is the dimension-switching component. You will frequently flip between 'The Living World' and 'The Dead World', with this switch having an affect on the game's combat and platforming segments.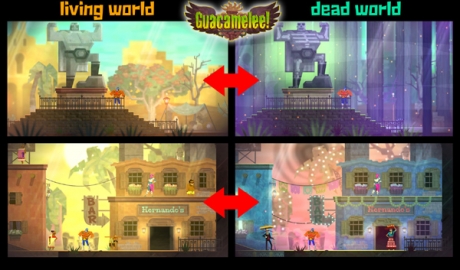 Cooperative Play
Guacamelee! entire storyline can also be played cooperatively. The first player contols Juan, whilst the second player takes control of a women known as Tostada.