Disney Infinity uses collectible figurines that can be placed on an Infinity Base that transports those characters into the game. The Infinity Base allows for two characters to be placed on it at a time, as well as a world disc slot for opening up more Play Sets. In addition, there are power discs that can be used to power-up your characters, as well as other discs that open up new items to use in Toy Box mode.
There are two modes to play in Disney Infinity, which are Play Sets and Toy Box. The following pages go into farther detail on those modes.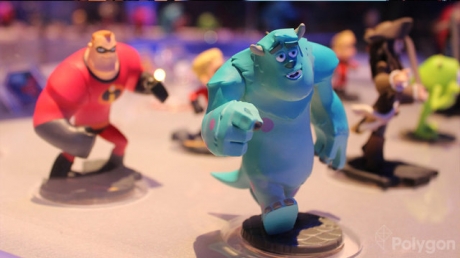 Play Sets Mode
Play Sets are individual levels that are set in Disney's worlds themed around particular movies. Each one is specific to a franchise and only the characters from that movie will be playable, so you wouldn't be able to use someone like Jack Sparrow in Monsters University.

Each Play Set is its own game, complete with its own unique gameplay and mechanics. For example, the Cars play set will have races and stunt events. The play sets are said to offer six to ten hours of gameplay for each one.
Toy Box Mode
Toy Box Mode is a sandbox mode where players can build whatever they want. There will be ways to link objects together, similar to LittleBigPlanet 2, that will trigger events by doing something else. Developer demos have shown various things created, such as a track from Mario Kart, as well as a Robotron-style shooter with Mr. Incredible. Players will be able to use any combination of characters, even from different worlds, in Toy Box mode.