Heroes of the Storm is a multiplayer online battle arena (MOBA) game that takes various characters from Blizzard's famous series--Warcraft, Starcraft and Diablo--and pits them on teams against each other. It takes some general aspects from other MOBAs, as well as introduces its own spin on the genre.
General Gameplay
Gameplay in Heroes of the Storm takes place in real time. Battles consist of quick matches that can be completed in short sessions. The goal is to destroy the enemy's base. Each player begins by choosing a hero from a collection of many of Blizzard's popular IPs including Warcraft, Starcraft and Diablo. Two teams, consisting of five players each, will attack each other on the battlefield until one team is defeated. Players will level up, choose talents, and must work as a team to capture forts and destroy the opposing players and NPCs (non-playable characters).
Each battleground is laid out with both teams having several buildings, as well as a main base. The base and outposts of the teams are connected by lanes, which are paths where the computer controlled characters move in on enemy outposts. Between lanes lie Observatories and Mercenary Camps and each map also has unique objectives.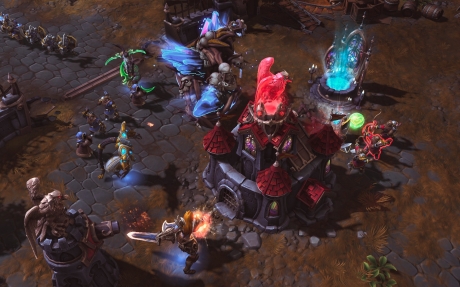 Leveling System
The leveling aspect in Heroes of the Storm differs from other MOBA games in that players do not level up individually. Instead, the entire team levels up all at once despite who landed a killing blow or completed a specific task. As long as there is a hero near a dying enemy, the entire team will gain experience for the defeat. Level 25 is the maximum level that can be reached and experience can be gained from heroes, camps, minions, structures, and objectives. There are no items or gold on the map and upon leveling up, players simply select between skills.
Heroes
There are currently at least 23 heroes confirmed to choose from and players can select from an array of unique masteries, abilities and combat styles. As the five man team gains experience and levels up, a player's hero gains stat increases and their abilities become stronger. Attack damage, attack speed, ability power, health, mana, and regeneration are some of the hero stats that increase upon leveling up.
Each hero has different strengths and weaknesses based on their role. There are four main hero roles:
Assassins deal heavy damage and are good at striking unexpectedly, but they can't sustain a great deal of damage.
Warriors are melee brawlers and can take a beating.
Support heroes can aid their allies with healing, buffs or other abilities.
Specialists are heroes with roles like the siege and commander that bring different assets as you build a team.
Heroes have a heroic trait (usually passive) that ties together their ability set as well as three more normal abilities (usually active) that help to define the hero and their playstyle. Additionally, they get a choice of heroic abilities at level 10.
Every three levels gained gives players the ability to customize their hero via a Talent system. Each talent can alter traits such as bonus stats, special passives, ability modifications, or grant completely new abilities. These choices allow for tailoring heroes to specific game situations.
Battlegrounds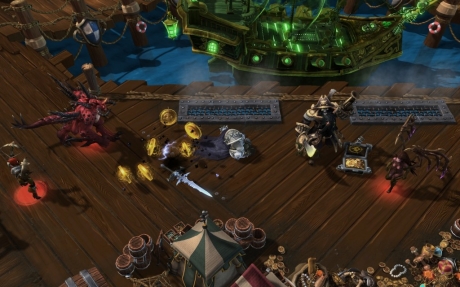 In addition to the opposing team, each battleground presents its own unique challenges including pirate ships, grave golems and the Raven Lord, but players can also use these elements to their advantage in battle. Blackheart's Bay, Cursed Hollow, Dragon Shire and Haunted Mines are some of the battleground areas known so far.
Towns
Towns, both friendly and enemy, are located between each base. They include structures like gates to prevent enemy movement, healing fountains for health and mana, and a protective guard tower. Players can also capture watchtowers to give them a vision on key areas.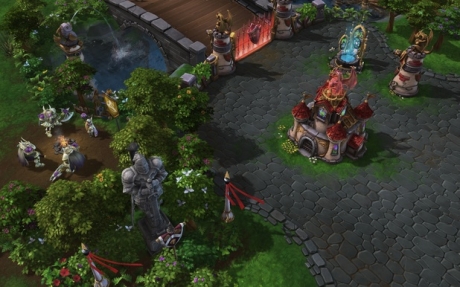 Mercenary camps can also be overtaken for a tactical advantage. Once subdued, the mercenaries will fight on your side against opposing teams and also have varying abilities including melee brawlers, ranged attackers and healers.
Quests
Quests are where you earn gold (to buy heroes) and most of your account experience. There are several types of quests:
Starting Quests are available at level one and can only be done once per account. Some of these objectives include playing a Practice Game, winning a game in any mode, and capturing two Mercenary Camps. These quests do not reward any gold but do provide experience.
Daily Quests, which are available at level 6, earn 300-600 gold and 50k-100k experience points. There is one available each day and has objectives that consist of winning two games as a Support, capturing ten Watch Towers, or winning a game with each hero role.
Hero Quests are available at level 10. Each hero has three quests to choose from and they can be completed only once. They consist of using a specific ability a number of times or winning a certain number of games.
Epic Hero Quests, available at level 20, are similar to the Hero Quests but the required objectives are bigger and take longer to complete.