Sunsent Overdrive is a highly stylised open-world shooter that mixes a uniquely colourful art style with crazy, varied weaponry and parkour platforming with a very agile player-character. All of this combines together to allow for combat whilst on the fly.
General Gameplay
Sunset Overdrive is a third person, free roam, parkour shooter. The game take the third person shooter to new heights with implementing the parkour aspects of the game. Players can easily scale walls, grind on cables, wall run, wall jump, slide, dive, and more to traverse the world around them.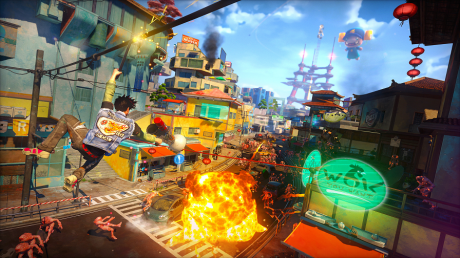 Killing enemies is rather easy and similar to Left 4 Dead. They have a set health, though they aren't purposely strong. Players can easily mow down enemies using various weapons that deal single target damage, area of affect damage, and multi target damage. Players have complete freedom in how they engage their targets.
The game, due to it being open world, will be set up with a mission structure. Side missions and story missions are located all throughout the city and are available for the player to do whenever they so choose. Doing these missions and roaming the city allow for Amps to be unlocked.
Amps
Amps are special upgrades that can drastically upgrade a weapon. Add to this, the Amp itself can be upgraded along with the weapon it is equipped to, allowing for even more damage to be done.
Customization
Little is known about the game, but it has been announced that there will be a certain amount of character customization available, with known customization being able to change the character's gender, body type and outfits. Players will also be able to customize their weapons by upgrading using Amps and cash. Weapons will become more powerful and even feature new abilities as they are upgraded.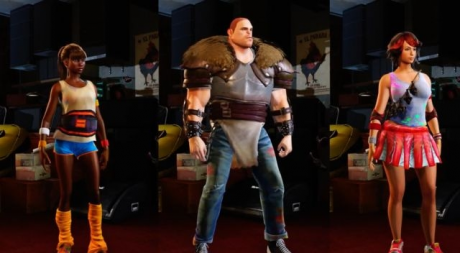 Multiplayer
Just recently, it was revealed that Sunset Overdrive will feature a game mode called Chaos Squad. Chaos Squad is an 8 player open world mode that has players defending against the OD's. Players can ear weapons from Multiplayer and carry them over to their singlplayer experience. Players will also earn other rewards such as cash to upgrade and customize weapons and their character. Beside from this nothing else is known about multiplayer.