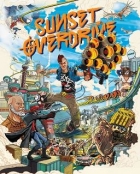 Sunset Overdrive is an open-world, third-person shooter game developed by Insomniac Games and published by Microsoft Studios exclusively for Xbox One. It is set to release October 28, 2014.
After the company FizzCo. throws a party to celebrate its new energy drink, OverCharge Delirium XT, the city becomes infested with mutated humans called OD's. It is now the Awesomepocalypse and you, a FizzCo. employee, are tasked with cleaning up the mess using various weapons, methods, and factions throughout the city.
Sunset Overdrive Brainwaves
9th June, 0 replies

Microsoft has announced this week's Deals with Gold for Xbox Live Gold members. There are nine games...

11th January, 0 replies

Music is one of the most important aspects of a game's presentation. Music can incite excitement, fear,...

11th January, 0 replies

Art Direction ought not be something defined by whose £400 console is better than their neighbour's...
Share Sunset Overdrive with others