Shadow of Mordor is an open-world game that takes inspiration from game series that have been released thus far, such as Assassin's Creed and Batman: Arkham. However, the main draw of the main is the Nemesis System, adding an element that extends the longevity of the game.
General Gameplay
Shadow of Mordor is an action-adventure title that focuses on three main systems, the open world, the battle system and the Nemesis System. The main protagonist has use of three different weapons in the game, a bow, a dagger and a sword. The bow is used for ranged attacks, the sword for regular fighting and the dagger for stealth.
Talion, the name of the main protagonist, can run, climb pretty much any structure and assume a stealth position. Enemies are marked on the map as red arrows and the Uruks, the main enemies, have different levels of alert whenever they notice something out of the ordinary.
Battle System
Fighting is inevitable in Shadow of Mordor and you'll definitely be doing a lot of it. Before getting into the basics of it, you should know that there's five kinds of Uruks in the game. They are as follows:
Basic Uruk - They usually wield a club or a sword and have no special properties.
Defender - They carry a shield, which blocks attacks from the front. Wooden shields can be broken, but later ones are made from metal and cannot. Jump over them and attack from behind. When they attack, they cannot be countered and you must dodge.
Berserker - Usually carry two axes and will counter attacks from the front. Either stun them or jump over them, attacking from behind.
Archer - They tend to be on top of buildings and structures, picking you apart with arrows. Fairly easy to kill, although you have no idea when they attack.
Throwers - These enemies are also ranged and will throw spears at you, although they will be mixed in with other enemies. As with Archers, you do not know when they attack, but they will melee up close and can be countered.
The combat in the game is similar to the Batman: Arkham series, where you will fight multiple enemies at a time. You have a basic attack button, as well as a button used to stun enemies and another used to counter attacks. The number of hits you get will be counted and once it reaches a certain threshold, you will be able to do special attacks. You are not limited to using just your sword, as you have your bow and Wraith abilities at your disposal.
Missions
While the player can simply go around the open world, killing Uruks and enjoying the "sights," progression is done through missions. Main Missions are marked in gold and will progress the story, while red ones are Power Struggles. These are basically missions that pit the Uruks against each other and will earn Talion some points to unlock new Abilities.
The last set of missions, marked in white, are side missions that encompass everything else in the game. These entail things like helping out the slaves or the collectibles in the game. Doing these side missions will usually reward the player with Mirian, the game's currency, which can be used to upgrade Talion's Attributes.
The Wraith
At the very beginning of the game, Talion is joined with Celebrimbor, who has become a Wraith. This fusion allows Talion to use some of those powers of a Wraith, one of which is the proficiency with a bow. Every time the player draws the bow, a meter appears that slows down time while attempting to shoot an arrow.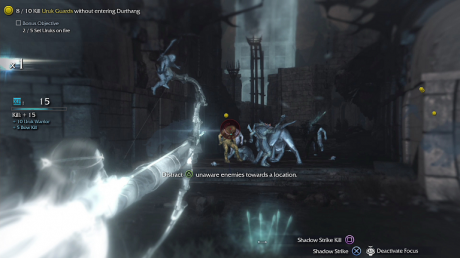 In addition to this, you can enter the Wraith World any time by pressing a single button, which will show all nearby enemies, as well as highlight collectibles and even plants that can be used to restore your health. Also, while in the Wraith World, you will sometimes see an enemy with a button prompt over their heads. This is a Captain/Warchief and using this allows you to pinpoint their position.
Upgrades
While Talion starts out more powerful than most protagonists, the player can still purchase upgrades for him. These come in three varieties, which are Weapon Runes, Abilities and Attributes. All of them are acquired in different ways, so it's important to know about them.
Weapon Runes
Weapon Runes are things that Talion can equip to his three main weapons on the game, with each weapon having one Rune slot at the beginning of the game, which can be upgraded to have a total of 5. Runes are acquired from the Captains and Warchiefs you kill throughout the game.
There's two types of Runes in the game, normal ones and epic ones. Normal Runes have a level attached to them, which is increased by how powerful the Captains and Warchiefs are at the time of killing them. Epic Runes are preset in their ability and only obtainable from high-leveled Captains and Warchiefs.
Abilities
Abilities are the various moves that Talion can learn, which are purchased using Ability Points. These are acquired by doing pretty much any action, which will earn Talion XP. Once he gets enough XP, then he will get an Ability Point. There are different tiers of abilities, which are unlocked via Power, which is gotten from Power Struggles (red missions). Some abilities are also unlocked via the Main Missions.
Attributes
Attributes are another variance of upgrading Talion in Shadow of Mordor. These are upgrading using the currency, Mirian, which can be obtained from doing the side missions (white ones) in the game. They primarily deal with the basic things, like increasing health, the number of Elf-Shots and even the number of slots for Runes.
The Nemesis System
The Nemesis System is the main draw of Shadow of Mordor, that revolves around the heirarchy system in place for the Uruks, who are the main enemies you fight in the game. Apart from a few set Uruks, the rest of them are completely random.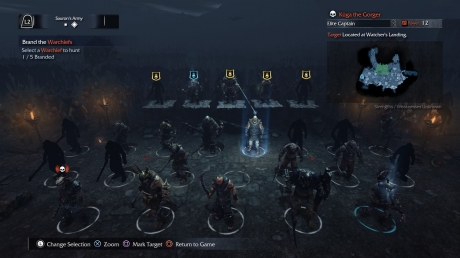 How it basically works is that there are three rows of Uruks that function as Captains and one row that function as Warchiefs, the top tier of Uruk heirarchy. All of the Uruks will starts out as black silhouettes, meaning you won't know anything about them, including their location or even their name.
Strengths/Weaknesses
Each named Uruk will have their own set of strengths and weaknesses, which are also completely random. For example, one might be afraid of Caragors, meaning he will run away at the sight of one, while another might hate them, giving him a power boost and making him harder to kill. The only way to find these out is by interrogating a Worm (indicated by a green icon) or by interrogating another Captain or Warchief.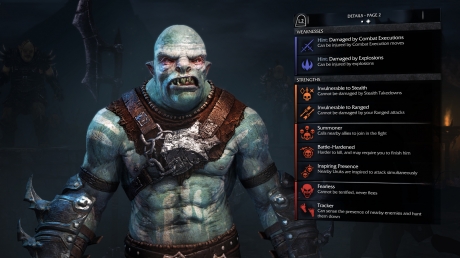 Moving Up in the World
Once you progress into the story a little bit, you will learn about the Power rating system of the Uruks. Each one is assigned a Power rating that can increase with a few actions. An Uruk killing you can increase it (as well as make a normal Uruk become a Captain), as can an Uruk succeeding in a Power Struggle.
There are different kinds of Power Struggles, such as Ambush, where the Captain leads an ambush on another Captain or that Captain is ambushed by random Uruks. These Power Struggles are the red mission icons on the map and other than doing them, passing time via the Forge Towers are another way for the Captains/Warchiefs to gain power.
Collectibles
There are two main collectibles in the world of Shadow of Mordor, both of which can only be found while in the Wraith World. Throughout the land are Forge Towers, which will unlock the locations of the collectibles on your map. Go to those locations, trigger Wraith World and you'll find both hidden somewhere in that particular location.
Artifacts, which are one of the two collectibles, have something a little extra associated with them. When you collect one, you will have to find a certain spot on it that will trigger a memory. This is done by rotating the Artifact until you find a glowing spot, which is the memory.