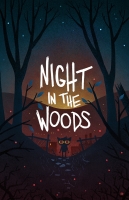 Night in the Woods is an adventure game being developed by Infinite Fall for Microsoft Windows, PlayStation 4, Mac OS and Linux. The game is said to be more about exploration and the story, concentrating on the characters, although there will still be some platforming.
Players take on the role of Mae, a feline who likes to run around with her friends, break stuff and hang on to a life of aggressive aimlessness. Having just dropped out of college, Mae returns to town and finds out that her beautiful town is not the same anymore. She, herself, suffers some unexplained changes, that give her strange abilities to access a new place of the neighborhood, that didn't exist before. Soon, shee finds out that it should be something in the woods, something that affects her entire life.
Night in the Woods Brainwaves
13th June, 0 replies

The easiest way to describe Night in the Woods is to imagine an Animal Crossing game where all of the...
Share Night in the Woods with others