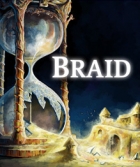 Braid is an Indie Puzzle Platformer for the PlayStation Network, Xbox Live Arcade and PC (Windows, Mac & Linux) with time manipulation mechanics, set against a painterly aesthetic. It also has a storytelling element that is less involved than many modern games, with almost all of the narrative happening through books completely separate from the gameplay areas. Although it has been both criticised and praised for its non-specific and multi-layered approach to story.
Braid Brainwaves
10th February, 0 replies

Jonathan Blow (Braid) has revealed that his next upcoming game, The Witness, will be so large that even...

26th August, 0 replies

A new week is upon us once again, so of course that means a new This Week on Steam! Here's the best of...

16th May, 0 replies

Jonathan Blow, creator of indie hit Braid, has written a short article for PlayStation Blog which provides...