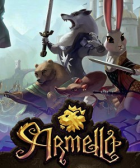 Armello is an RPG srtategy board game being developed and due to be self-published by League of Geeks, thanks to successful fundraising via Kickstarter. The game is set to release on Windows PC, Mac, Linux, iOS, Android and Windows Tablet devices in March, 2015.
Armello is set in a fantasy world filled with anthropomorphic animals and players assume the role of a hero chosen among their clan to take part in a campaign to become the next king or queen. The game features turn-based board-game mechanics that revolve around the use of dice and cards that are drawn from a deck, with each player's actions influencing the outcome.
Armello Brainwaves
26th May, 0 replies

The tabletop-inspired game Armello will be coming to the PlayStation 4 this September. The PlayStation...
Share Armello with others