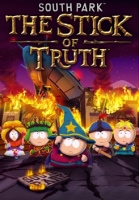 South Park: The Stick of Truth is a role-playing game developed by Obsidian Entertainment and was due to be published by THQ, but due to THQ's bankruptcy in late 2012, the publishing rights for the game were sold to Ubisoft. Based on the popular animated television show South Park, the player takes on the role of a new kid in town, joining in their games and ultimately making friends with the characters on the show.
South Park: The Stick of Truth Brainwaves
3 days ago, 0 replies

The winter freeze is almost over! As the weather begins to warm up, the slate of games being released...

12 days ago, 0 replies

After hearing the recent news that South Park: Stick of Truth will be censored it made me think that...
Share South Park: The Stick of Truth with others
South Park: The Stick of Truth