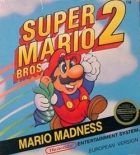 Super Mario Bros. 2 is a platformer developed and published by Nintendo for the Nintendo Entertainment System. The Lost Levels was originally Mario Bros. 2 in Japan, but Nintendo of America deemed the game was too difficult. This caused them to release this game, which is modeled after a game called Yume Kojo: Doki Doki Panic.
Mario dreams on night of a mysterious and incredible world called Subcon, which has been taken over by the evil Wart. It turns out that Luigi, Toad and Peach also dreamt of the same thing. While out on a picnic, they stumble upon a cave that leads them to Subcon. It's up to them to rescue the denizens of this dream world from the evil clutches of Wart.
Super Mario Bros. 2 Brainwaves
3rd May, 0 replies

Nintendo's eighth generation handheld, the 3DS, has hit a new milestone in the US. The handheld has surpassed...
Share Super Mario Bros. 2 with others