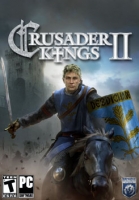 Crusader Kings II is a grand strategy game developed Paradox Development Studio and published by Paradox Interactive for Microsoft Windows and Mac OS. It is the sequel to Crusader Kings, and takes place in Medieval Europe. A "dynasty simulator", players control a Medieval dynasty from 1066 to 1453, though this can be changed through DLC packs.
Through the strategic use of war, marriages and assassinations, amongst many other things, the player works to achieve success for their dynasty. There is no one way to "win", with the only in-game objective being to obtain as many prestige points as possible and surpass the various historically relevant Christian dynasties, and Game Over occurs when the player's current character dies without an heir of the same dynasty to succeed them.
Crusader Kings II Brainwaves
24th August, 1 replies

Humble Bundle have launched the Jumbo Bundle 2, a bundle full of great games with no apparent overall...
Share Crusader Kings II with others