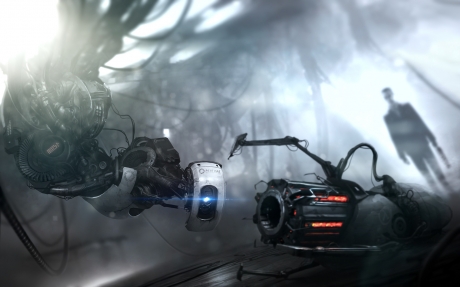 J.J. Abrams and Gabe Newell spoke together yesterday at the 2013 DICE Summit and spoke of their desire to make a video game together and perhaps a film based on Portal or Half-Life.

Here are the key quotes:

Abrams: "There's an idea we have for a game that we'd like to work with Valve on."

Newell: "We're super excited about that and we also want to talk about making movies, either a Portal movie or a Half-Life movie."

Newell: "What we are actually doing here, we are recapitulating a series of conversations going on. We reached the point that we decided to do more than talk."

After the on-stage discussion Abrams was quizzed by journalists about the likelihood of the projects seeing fruition. He responded: "It's as real as anything in Hollywood ever gets... we are really talking to Valve, we are going to be bringing on a writer, we have a lot of very interesting ideas."

A Portal or Half-Life film? An Abrams-led Valve game? Wow.
Related Brainwaves
14th October

The Gabe Newell Simulator is a real game and it is available now on Steam Early Access. "Gabe Newell Simulator is a game for those who have always dreamed...

27th April

It looks like Valve is backing down away from the paid mod feature it recently introduced, and which caused substantial community backlash. In an official...

17th December

Controversial serial killer game Hatred was removed from Steam Greenlight yesterday, but today it has returned, along with an apology from Gabe Newell...
Trending Articles
18th June

Legendary Game Designer Shigeru Miyamoto has told Kotaku that he feels that he made a bad game. Shigeru Miyamoto is famous for games like Metroid, Star...

16th February

Yu-Gi-Oh! Duel Generation Hack Tool Get Free Unlock All Pack and Deck, tool works on Android and iOS (iPhone, iPad, iPod Touch), download tool Hack Tool...

5th November

Fallout: Shadow of Boston and Fallout: The Ultimate Collection trademarks have been filed at the German patent office. The Office for Harmonization in...

30th October

Download Link: http://www.fileworld.info/outil-triche/telecharger-geometry-dash-outil-de-piratage-android-ios-comment-pirater-geometry-dash-triche/ Hello...

21st January

As we promised during the weekend in the next weeks we will unveil Durango and Orbis. All the technical info you want to know about the next generation...