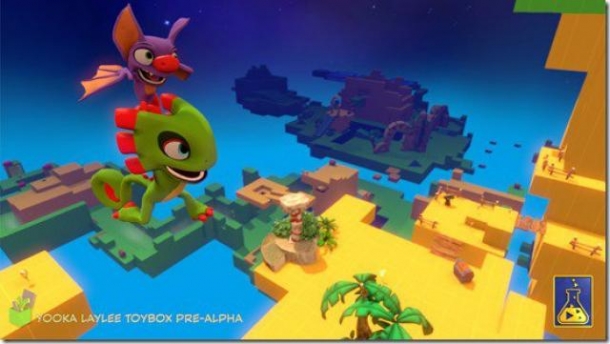 Starting today, Yooka-Laylee backers who opted for tiers that included the "Toybox" will receive codes via BackerKit.

As detailed on Yooka-Laylee's Kickstarter campaign page, the Toybox isn't a traditional demo or beta test. Rather it's a self-contained sandbox designed to give backers a glimpse of the platforming to come in the final build of the game.

Inside the sandbox, backers will find moves to try out, props to experiment with, secrets to uncover, and - since this is a Playtonic game - plenty of shiny collectibles to find. Playtonic plans to gather feedback from backers on controls, camera, and movement.

The Toybox will be playable via Steam. Instructions and system requirements can be found via Playtonic's website here.
Related Brainwaves
26th August

Despite the many post apocalyptic open-world games available today, I'm yet to play one inspired by kung-fu movies. Enter Experiment 101's Biomutant, a...
Trending Articles
29th September

Hey gamers we've a new online tool for you, this time is Farming Simulator 2017 Cd-key Generator. Render your own village: from growing to animal husbandry,...

4th February

Borderlands 2 has some of the most enjoyable writing of a game released this generation, thanks to lead writer Anthony Burch (Hey Ash, Whatcha Playin'?)....

25th July

The next installment of the Super Smash Bros series is in development. Ever since a few days ago, people were excited to see it. Now, fans of the series...

15th November

With just 14 days to go before the 15th mainline entry in the Final Fantasy series - Final Fantasy XV - finally launches worldwide, we thought we'd take...

16th February

Yu-Gi-Oh! Duel Generation Hack Tool Get Free Unlock All Pack and Deck, tool works on Android and iOS (iPhone, iPad, iPod Touch), download tool Hack Tool...