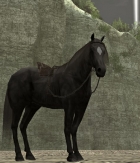 Agro is the horse ridden by Wander, the player character in Shadow of the Colossus. He is not directly controlled; rather, you continue to play as Wander, and pull the reins to make him turn and kick to make him speed up. Agro greatly speeds up the process of reaching each colossus, and is allowed into certain colossus battles, such as the battle with the thirteenth colossus Phalanx, where he is an invaluable tool.
Latest Games
Developed by Team ICO for PS2, PS3, PS4

Shadow of the Colossus is an action-adventure game developed by

Team ICO

and published by

Sony Computer Entertainment Japan

for the

PlayStation 2

and

Playstation 3

. It was first shown at DICE summit in 2003 as an early tech demo depicting a group of masked, horned boys riding horses while attacking and defeating a colossus. It was released from late 2005 to early 2006, exclusively on PS2.