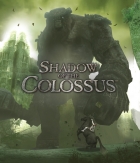 Shadow of the Colossus is an action-adventure game developed by Team ICO and published by Sony Computer Entertainment Japan for the PlayStation 2 and Playstation 3. It was first shown at DICE summit in 2003 as an early tech demo depicting a group of masked, horned boys riding horses while attacking and defeating a colossus. It was released from late 2005 to early 2006, exclusively on PS2.
Shadow of the Colossus was highly acclaimed by critics, so much that it was later released on the Playstation 3 along with ICO in The ICO & Shadow of the Colossus Collection.
Shadow of the Colossus Brainwaves
26th November, 0 replies

Assuming he can ever finish The Last Guardian that is. I jest, I jest. In an interesting interview with...

3rd October, 2 replies

In an interview with Sony's Shuhei Yoshida, GamesIndustry devoted a good chunk of their time quizzing...

24th January, 12 replies

As a massive SOTC fan I've been looking forward to this game for ages! Does anybody know if there's a...
Share Shadow of the Colossus with others