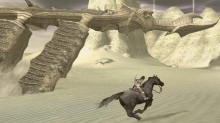 Real Name: Tail Drifter
Form: Dragon
Temperament: Apathetic
Attacks: none
Size: 557ft/170m long, 200ft/60m wing span
About
Phalanx is the thirteenth of the sixteen Colossi that wander must defeat. He is very peaceful and doesn't ever try to attack you, unless Wander is on his back then he will shake or dive under the sand knocking you off.
Location
Head Southwest of the Shrine. Head South past the mountains where you fought Valus until you reach the southern plains. Turn West until you reach a huge desert, cross the platform and the battle will begin.
Defeat
Beneath Phalanx are three big gas bladders that keeps it floating, your goal is to use your arrows and shoot these bladders until you burst all three. He will then float really close to the ground and you have to use Agro to catch him. When you get close enough jump off Agro onto one of Phalanx wings, start climbing. Once on top of its body run along looking for it's sigils which should be located on each of its dorsal ridges. With every sigil you stab it will attempt to knock you off by shaking, doing barrel rolls or diving in the sand. If he dives in the sand his bladder will be filled and you'll have to shoot them over again. Repeat until it's defeated. In hard mode Phalanx will close its flaps much sooner than normal.