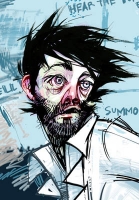 Doug Rattmann, also known as the Ratman, is a former Aperture Science employee and is part of the Portal franchise.
He isn't seen during either of the Portal games, although there was scribbles of his written on the walls, the most notable being "The cake is a lie."
Latest Games
Developed by Valve Corporation for WIN, PS3, X360

Portal 2 is a first-person puzzle-platform video game developed and published by

Valve Corporation

. It is the sequel to

Portal

and was released on April 18, 2011 for Microsoft Windows, Mac OS X,

PlayStation 3

, and Xbox 360. The retail versions of the game are distributed by Electronic Arts, while digital distribution of the Windows and OS X versions is handled by Valve's content delivery service Steam. Portal 2 was announced on March 5, 2010, following a week-long alternate reality game based on new patches to the original game.
Share Doug Rattmann with others