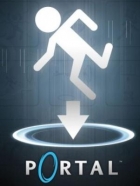 Portal is a puzzle-platformer franchise developed by Valve, which is set in the Half-Life universe. The series relies on solving puzzles with portals and has gained both critical and financial success.
Latest Games
Developed by Valve Corporation for WIN, PS3, X360

Portal 2 is a first-person puzzle-platform video game developed and published by

Valve Corporation

. It is the sequel to

Portal

and was released on April 18, 2011 for Microsoft Windows, Mac OS X,

PlayStation 3

, and Xbox 360. The retail versions of the game are distributed by Electronic Arts, while digital distribution of the Windows and OS X versions is handled by Valve's content delivery service Steam. Portal 2 was announced on March 5, 2010, following a week-long alternate reality game based on new patches to the original game.
Portal Brainwaves
5th May, 0 replies

It looks like Valve's Portal series will make an appearance in the upcoming toy-to-life game Lego Dimensions. Eurogamer...

17th November, 1 replies

Here we are - the closing of this generation of video game systems. The PlayStation 4 and Xbox One are...

23rd April, 3 replies

Yeah yeah. Since 2007 every Chell, Atlas, and P-body has heard "The Cake is a Lie" line. What was once...