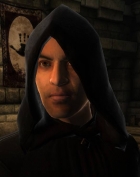 Lucien Lachance was a Speaker of the Dark Brotherhood in Oblivion. He can be summoned as the Spectral Assassin in Skyrim.
He recruits the player in Oblivion, and when proceeding the Dark Brotherhood Quests, he gives the player new Quest to attend to.
Latest Games
Developed by Bethesda Softworks for WIN, PS3, X360

Oblivion is an open world action role playing game and the fourth installment of the popular Elder Scrolls series. It was published by Bethesda Softworks and the Take-Two Interactive subsidiary 2K Games for PC, X-box 360 (March 2006) and later PS3 (March 2007 in the US, April 2007 in the EU and Australie).
Lucien Lachance Brainwaves
Share Lucien Lachance with others