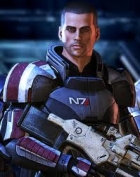 Commander Shepard is the main protagonist and playable character of the Mass Effect franchise. Shepard can be either gender, and any one of six classes in each game (though these classes vary slightly). Shepard is the captain of the Normandy, an Alliance star cruiser, and a Council Spectre, only the second human ever to be given the role. Shepard's fate is determined by the player's actions in Mass Effect 3.
Latest Games
Developed by BioWare Edmonton for WIN, PS3, X360

Mass Effect 2 is a third-person shooter and role-playing game developed by Bioware Edmonton and published by Electronic Arts. Officially announced in a teaser trailer on February 20th 2009, It was released on PC and Xbox 360 in North America on January 26th 2010, and on PlayStation 3 on January 18th 2011. It is the second game in the Mass Effect trilogy, and features a major overhaul in combat and game mechanics.
Commander Shepard Brainwaves
20th December, 1 replies

If the last game's ending didn't completely turn you off the series, you'll be pleased to hear that Bioware's...
Share Commander Shepard with others