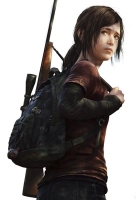 Ellie is a fourteen year-old girl who was born in the Boston quartantine zone after the pandemic that wiped out most of the human population in The Last of Us. Having no knowledge of the world before the pandemic, Ellie is used to the military oppression that the quarantine zone adheres to. Raised by her mother until her death, Ellie was taken in by the Firefly leader Marlene.
20 years after the pandemic, Joel and Tess encounter a wounded Marlene, leader of the resistance group known as the Fireflies, and decide to help smuggle Ellie out of the quarantine zone in return for their stolen supplies. With the Firflies and the military seeking her out, it soon becomes apparent that Ellie is more than she seems on the surface.
Latest Games
Developed by Naughty Dog for PS3, PS4

The Last of Us is an action-adventure post-apocalyptic third-person survival horror game developed by

Naughty Dog

exclusively for the

PlayStation 3

. The game follows the story of

Joel

, a middle-aged black-marketeer, and

Ellie

, a brave teenage girl, as they work together to survive in cities reclaimed by nature, decimated by plague, and littered with gangs and other hostile survivors.
Ellie (The Last of Us) Brainwaves
6 days ago, 0 replies

Rumours about a possible The Last of Us re-release for the PS4 have been circulating for a while, but...

15 days ago, 0 replies

The long-standing rumour that we'll see a PlayStation 4 version of Naughty Dog's hit title The Last of...

19 days ago, 0 replies

PlayStation's Eurasian Software Market Manager, Sercan Sulun, has said that PlayStation 3's critically-acclaimed...
Share Ellie (The Last of Us) with others