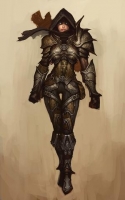 The Demon Hunter is one of the five classes of playable characters in Diablo III. The Demon Hunter defends against enemies with a crossbow and explosives. The Demon Hunter's skills are enhanced by Hatred and Discipline. Hatred comes into play during attacks and regenerates quickly, while Discipline increases defense but regenerates slowly.
Latest Games
Developed by Blizzard Entertainment for WIN, PS3, PS4, X360, XOne

Diablo III is a fantasy, role-playing game produced by Blizzard Entertainment, released for use on Microsoft Windows and OS X on May 15, 2012. It will be released for gameplay on Playstation 3 and XBOX 360 on September 3, 2013 and the in 2014 on the upcoming Playstation 4 console. Both regular and special editions were available for the original release and will likely be available for the home console release.
Share Demon Hunter with others