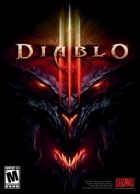 Diablo III is a fantasy, role-playing game produced by Blizzard Entertainment, released for use on Microsoft Windows and OS X on May 15, 2012. It will be released for gameplay on Playstation 3 and XBOX 360 on September 3, 2013 and the in 2014 on the upcoming Playstation 4 console. Both regular and special editions were available for the original release and will likely be available for the home console release.
Diablo III is the third installment in the Diablo series and takes place twenty years after the events in Diablo II. The game starts the hero on a quest to investigate a "fallen star," leading to a venture to defeat the Skeleton King Leoric, lead forces against the demon witch Maghda, and ultimately save the High Heavens from the evil lord Diablo. Players can choose from one of five character classes, and have access to customize their in-game persona using a complex leveling/stat system. Diablo III can be played as either a single or multiplayer experien and challenges players to "grind" randomly generated dungeons for loot to augment their chararcters chosen skills.
Diablo III: Reaper of Souls Brainwaves
10th June, 1 replies

Clickers from The Last of Us will flood into Diablo III, it was announced at Sony's E3 conference. When...
Share Diablo III: Reaper of Souls with others
Diablo III: Reaper of Souls