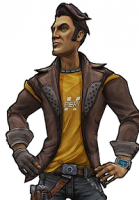 Handsome Jack is the main protagonist in Borderlands 2. He assumed control of the Hyperion corporation, as well as taking credit for finding the Vault and killing the Destroyer. He has created a station between Pandora and its moon in the shape of a "H," which he can use to send troops and supplies down to Pandora. It can also be used to keep an eye on the players at all times.
Latest Games

Handsome Jack Brainwaves
4th July, 0 replies

With Borderlands: The Pre-Sequel set to launch this October, developers Gearbox are giving us all a sneak...

7th April, 0 replies

Rumours are starting to land that Borderlands 2 will be receiving a prequel, obviously putting the game's...
Share Handsome Jack with others