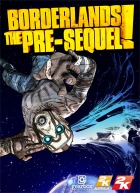 Borderlands: The Pre-Sequel is a first-person shooter that is being developed by 2K Australia and being released on Microsoft Windows, PlayStation 3, and Xbox 360. It is set in between the events of Borderlands and Borderlands 2, and is actually the fourth game with the Borderlands name.
Taking place in between the first game and its sequel, The Pre-Sequel will tell the story of Handsome Jack before he became the evil villain he is known for in Borderlands 2. You play as one of four characters that are actually Handsome Jack's henchmen, helping him to take over the Hyperion moonbase.
Borderlands: The Pre-Sequel Brainwaves
1st May, 0 replies

Borderlands: The Handsome Collection sold 66,466 units first week in the US for the week ending March...

18th April, 0 replies

The creator of the Borderlands series of first person shooters, Matthew Armstrong, has left Gearbox Software. Armstrong...

16th April, 0 replies

2K Australia has closed down. 2K Australia was one of Australia's longest-running studios, opening...
Share Borderlands: The Pre-Sequel with others
Borderlands: The Pre-Sequel