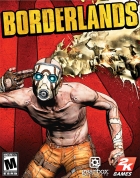 Borderlands is a space western, first-person shooter with RPG elements that was created and developed by Gearbox Software for PlayStation 3, Xbox 360, Microsoft Windows and Mac OS X.
The game was first revealed in the September 2007 issue of Game Informer magazine, and was first released on the PlayStation 3 and Xbox 360 in North America on October 20, 2009, in PAL countries on October 23, 2009, and in Japan on February 10, 2010. It was subsequently released on Windows (in North America on October 26, 2009, and PAL territories on October 29, 2009), and Mac OS X (on December 3, 2010). The Mac OS X version was published by Feral Interactive.The sequel, Borderlands 2, is currently in development and is slated for release in North America on September 18, 2012.
Borderlands Brainwaves
1 day ago, 0 replies

If you're a Borderlands fan and you traded in your Xbox 360 or PS3, then Gearbox's Randy Pitchford has...

7 days ago, 0 replies

Once a rumor, now a confirmed pre-sequel. Welcome to the Hyperion Moon Base, Vault Hunters. It's before...

9 days ago, 0 replies

Rumours are starting to land that Borderlands 2 will be receiving a prequel, obviously putting the game's...
Share Borderlands with others