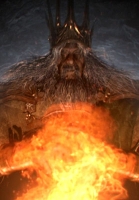 Gwyn, Lord of Cinder is the nephew of the Allfather Lloyd and the main antagonist of Dark Souls. At the dawn of the Age of Fire, from the dark of the world, came those who discovered the Souls of Lords within the First Flame. Wielding the power of the flame, Nito, the First of the Dead, the Witch of Izalith, and her Daughters of Chaos, Gwyn the Lord of Sunlight, and his faithful knights, and the Furtive Pygmy, challenged the Everlasting Dragons for control in the world.
After the defeat of the Everlasting Dragons, despite the land being barren and lifeless, the Lords and Humans rebuilt. Unfortunately, the flames began to fade and Gwyn and his knights traveled to Anor Londo to the Kiln of the First Flame. While Gwyn succeeded in kindling the First Flame, he was consumed in the fire, unnaturally prolonging the Age of Fire and causing the curse of the undead.
Latest Games
Developed by From Software for WIN, PS3, X360

Dark Souls is an open world action role-playing game, developed by

From Software

for the

PlayStation 3

,

Xbox 360

and

Microsoft Windows

. A spiritual successor to

Demon's Souls

, the game revolves around a dark-fantasy theme and sense of loss and caution. Like it's predecessor, Dark Souls is considered a challenging, yet rewarding, experience with players harshly punished for their mistakes.
Gwyn, Lord of Cinder Brainwaves
Share Gwyn, Lord of Cinder with others