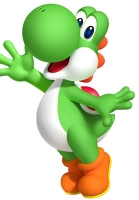 Yoshi is a green dinosaur that hails from Yoshi's Island, which is a bigger part of Dinosaur Island, the setting for Super Mario World, Yoshi's first appearance in the Mario series. He is usually seen helping Mario in one way or another, and even sometimes going on his own and saving the day by himself. As with Toad, Yoshi is a member of his own species that goes by the same name.
Yoshi Brainwaves
28th June, 0 replies

Yoshi's Woolly World oozes charm. The platformer formerly known as Yarn Yoshi had its coming out party...

10th June, 0 replies

Nintendo and Good-Feel Company, the company behind Kirby's Epic Yarn, are releasing another yarn-based...

24th April, 0 replies

Nintendo has announced a new Wii U bundle, bringing together Mario Kart 8 and a 32GB Black Premium console. The...