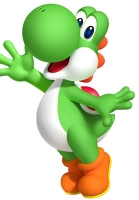 Yoshi is a green dinosaur that hails from Yoshi's Island, which is a bigger part of Dinosaur Island, the setting for Super Mario World, Yoshi's first appearance in the Mario series. He is usually seen helping Mario in one way or another, and even sometimes going on his own and saving the day by himself. As with Toad, Yoshi is a member of his own species that goes by the same name.
Yoshi Brainwaves
22nd October, 0 replies

The first of Mario Kart 8's two DLC packs is expected to land next month. We already knew that it would...

29th August, 0 replies

Today Nintendo announced that each Amiibo figure will cost $13, and that the first wave of Amiibos will...

26th August, 0 replies

Nintendo has been quiet on the Wii U's newest hit, Mario Kart 8, ever since announcing the Mercedes...