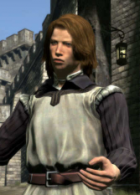 Barnaby is a NPC from Dragon's Dogma.
He is a pawn, meaning he does not age and cannot die. While he was accompanying an Arisen during a fight with the dragon, they were both defeated and his Arisen told him to help the Arisen who follow. So, he continued helping out Arisen, even though they kept dying at the hands of the dragons.
Latest Games
Developed by Capcom for WIN, PS3, PS4, X360, XOne

Dragon's Dogma is an action RPG developed and publshed by

Capcom

for the

PlayStation 3

and

Xbox 360

. The game is a fairly large RPG with a much more fleshed out combat system when compared to its main competitor,

The Elder Scrolls V: Skyrim

. The game has a unique pawn system that acts as online functionality in which you can hire other people's pawns from around the world to assist you in your journey.
Barnaby (Dragon's Dogma) Brainwaves
Share Barnaby (Dragon's Dogma) with others