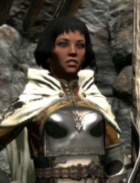 Mercedes Marten is a NPC in Dragon's Dogma.
She is a knight that was sent from a neighboring country to Gransys by her father, Grende Hearthstone. She is the captain of the Enlistment Corps, which are a group of knights in charge of defending from the dragon. Her father wanted her to marry into a noble family instead of being a knight, but when she was of age, she asked for her own company of knights like her brothers. Although she was not experienced enough to lead them, she trained until she was able to.
Latest Games
Developed by Capcom for WIN, PS3, PS4, X360, XOne

Dragon's Dogma is an action RPG developed and publshed by

Capcom

for the

PlayStation 3

and

Xbox 360

. The game is a fairly large RPG with a much more fleshed out combat system when compared to its main competitor,

The Elder Scrolls V: Skyrim

. The game has a unique pawn system that acts as online functionality in which you can hire other people's pawns from around the world to assist you in your journey.
Mercedes Marten Brainwaves
Share Mercedes Marten with others