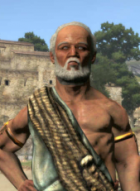 Chief Adaro is a NPC from Dragon's Dogma.
He is the Village Chief of Cassardis, which is your village. While he might not look like it, he is quite capable and skilled in combat, leading him to help fight off any monsters that attacked the village. He shared this knowledge of fighting, as well as fishing, to make Cassardis completely independent. When the previous chief died, it was no content to make Adaro the new one.
Latest Games
Developed by Capcom for WIN, PS3, PS4, X360, XOne

Dragon's Dogma is an action RPG developed and publshed by

Capcom

for the

PlayStation 3

and

Xbox 360

. The game is a fairly large RPG with a much more fleshed out combat system when compared to its main competitor,

The Elder Scrolls V: Skyrim

. The game has a unique pawn system that acts as online functionality in which you can hire other people's pawns from around the world to assist you in your journey.
Share Chief Adaro with others