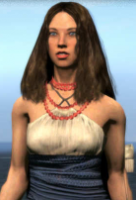 Quina is a NPC in Dragon's Dogma.
Quina is a childhood friend of yours, having both grown up in Cassardis. She was born to a mother of the healing Faith, and her father was a fisherman in the village. She is very gentle, which she got from her mother, which led to other children in the village picking on her. Your character was the only one in the village who would help Quina, which led to her learning healing magicks, so she could heal you. When you decide to leave the village, she becomes a nun.
Latest Games
Developed by Capcom for WIN, PS3, PS4, X360, XOne

Dragon's Dogma is an action RPG developed and publshed by

Capcom

for the

PlayStation 3

and

Xbox 360

. The game is a fairly large RPG with a much more fleshed out combat system when compared to its main competitor,

The Elder Scrolls V: Skyrim

. The game has a unique pawn system that acts as online functionality in which you can hire other people's pawns from around the world to assist you in your journey.
Quina (Dragon's Dogma) Brainwaves
Share Quina (Dragon's Dogma) with others