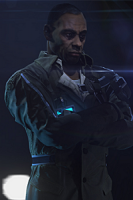 Thomas Sinclair is the director of the Shadow Marshals in Killzone: Shadow Fall, having been a Shadow Marshal himself in the past. As such, he's the one giving orders to Lucas Kellan throughout the game. Sinclair has a hatred for the Helghast, and thinks they are nothing but animals.
Latest Games
Developed by Guerrilla Games for PS4

Killzone: Shadow Fall is a first-person shooter that is developed by

Guerrilla Games

, exclusively for the

Playstation 4

. It is the sxith entry in the Killzone series and set to launch with the Playstation 4 on November 15, 2013 in North America. It will also launch with the system on November 29, 2013 in Europe and February 22, 2014 in Japan.
Thomas Sinclair Brainwaves
Share Thomas Sinclair with others