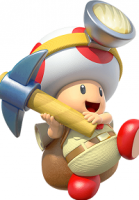 Captain Toad is the self-proclaimed captain of the Toad Brigade, who first made his appearance in Super Mario Galaxy. He is a normal Toad that is distinguished from other Toads by his large backpack and headlamp, with his design changed later on to be an explorer's outfit. Captain Toad is shown to be very cowardly, which leads other Toad Brigade members to talk about him behind his back.
He reappeared in Super Mario Galaxy 2 and became a playable character in a minigame in Super Mario 3D World, where he couldn't jump due to his heavy backpack. This would later be made into a spinoff title with the same gameplay mechanics, called Captain Toad: Treasure Tracker.
Captain Toad Brainwaves
6th January, 0 replies

Puzzle games come in many different forms but what they share in common is an ability to captivate gamers...

22nd October, 0 replies

Hyrule Warriors, the Zelda-infused Dynasty Warriors-inspired hack 'n slash title developed by Team Ninja...
Share Captain Toad with others