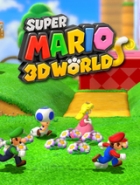 Super Mario 3D World is the first 3D mario game for the Wii U. The game draws heavily from its predecessor Super Mario 3D Land. It will feature up to four player simultaneous co-op with Mario, Luigi, Princess Peach and Toad. Each character will have different traits when played such as Princess Peach being able to float similar to in Super Mario Bros. 2.
New gameplay elements will be introduced in this game including the ability to turn into a Cat (by collecting a bell), Kuribo Skates, and an Orange Yoshi that turns into a raft. Super Mario 3D World is set for release in December 2013.
Super Mario 3D World Brainwaves
10th May, 0 replies

Nintendo has released updated sales figures for four of its key Wii U games in its earnings report. Most...

16th June, 1 replies

Who saw this one coming? I would dare say few ever expected to see a full-length game based off of the...

10th June, 0 replies

Captain Toad: Treasure Tracker, a quirky spin-off from Super Mario 3D World, has just been announced...
Share Super Mario 3D World with others