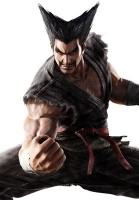 Heihachi Mishima is a major character and focal point in the Tekken series. He was born as the heir to the Mishima Zaibatsu, with his father being Jinpachi Mishima, which he would steal. He is also the father of Kazuya Mishima, which he treated harshly, even going as far as tossing him into a ravine to instill toughness in him. Heihachi is the host of the King of the Iron Fist Tournament in Tekken, Tekken 3, and Tekken 4.
He has appeared in all of the Tekken games, as well as a number of games outside of the series.
Heihachi Mishima Brainwaves
27th April, 1 replies

There was a video released on April Fool's Day which mixed together Tekken with Galaga. It was thought...
Share Heihachi Mishima with others