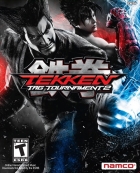 Tekken Tag Tournament 2 is the eighth main installment in the Tekken franchise and the sequel to Tekken Tag Tournament (1999). The game was released in Japanese arcades on September 14, 2011. A console version based on the update will be released for PlayStation 3 and Xbox 360 in September 2012, and for the Wii U during winter 2012.
Tekken Tag Tournament 2 Brainwaves
4th June, 0 replies

Tekken tag Tournament 2 is the second installment in the tag Tournament series. There is no set story...
Share Tekken Tag Tournament 2 with others