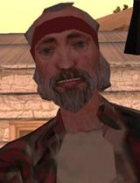 The Truth is a character from Grand Theft Auto: San Andreas. He is a hippie that lives out in Flint County, meeting with Carl Johnson when he was exiled to the Badlands. The Truth is a conspiracy theorist, with the missions done for him revolving around the government and kaw enforcement agencies.
Latest Games
Developed by Rockstar North for AND, iOS, MAC, WIN, PS2, PS3, , XB, X360

Grand Theft Auto: San Andreas is a sandbox action-adventure game developed by

Rockstar North

for the

PlayStation 2

,

Xbox

, and

PC

. It was released for the PS2 on October 26, 2004 for North America, October 29, 2004 for Europe and January 25, 2007 for Japan.
Share The Truth with others