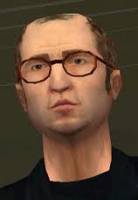 Ken Rosenberg is a character from the Grand Theft Auto series of games, appearing in both Vice City and San Andreas. In Vice City, he is a lawyer that represents many different companies and people, including Sonny Forelli. He later sides with Tommy Vercetti and becomes close friends with him, until he becomes addicted to cocaine, which breaks up their friendship.
Ken enters rehabilitation successfully at Fort Carson, San Andreas, although his friendship with Vercetti is wrecked and he is also disbarred from being a lawyer. He later ends up running Caligula's Casino, which is really run by the three mafia families of Liberty City. Carl Johnson helps Ken, who has now relapsed and is back on cocaine, escape from the families.
Latest Games
Developed by Rockstar North for AND, iOS, MAC, WIN, PS2, PS3, , XB, X360

Grand Theft Auto: San Andreas is a sandbox action-adventure game developed by

Rockstar North

for the

PlayStation 2

,

Xbox

, and

PC

. It was released for the PS2 on October 26, 2004 for North America, October 29, 2004 for Europe and January 25, 2007 for Japan.
Share Ken Rosenberg with others