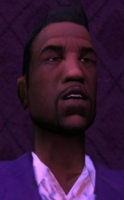 Jizzy B. is a character from Grand Theft Auto: San Andreas. He is a pimp that runs the Pleasure Domes night club in San Fierro. He is also a member of the Loco Syndicate drug cartel that runs its operations in San Fierro, and he functions as their charisma, recruiting men to do jobs for them. Carl Johnson does some jobs for him, only to get close enough to him, then eventually kills him during Ice Cold Killa.
Latest Games
Developed by Rockstar North for AND, iOS, MAC, WIN, PS2, PS3, , XB, X360

Grand Theft Auto: San Andreas is a sandbox action-adventure game developed by

Rockstar North

for the

PlayStation 2

,

Xbox

, and

PC

. It was released for the PS2 on October 26, 2004 for North America, October 29, 2004 for Europe and January 25, 2007 for Japan.
Share Jizzy B with others