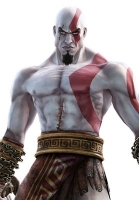 Kratos is a Spartan warrior and the antihero protagonist in the God of War series. The son of Zeus and a mortal Spartan woman, Callisto, Kratos was raised alongside his brother Deimos. One day when training, Ares and Athena raided the village in search of a Marked Warrior. Deimos, who was born with a birthmark, became the target of the god's wrath and was kidnapped, scaring Kratos in the process. Vowing vengeance against the gods, Kratos had himself tattooed in the exact image of Deimos' birthmark.
The game series follow Kratos as he embarks on adventures in vengeance of the gods or as attempt to avert disaster and change his fate.
Kratos Brainwaves
19th June, 0 replies

21st March, 8 replies

the new God Of War actually sold less than half that of 2010's God Of War III during its first week.God...

28th January, 7 replies

Usual choices but mine is probably Solid Snake - he's just so damn cool and you can really feel like...