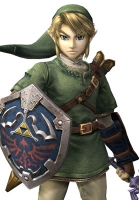 Link refers to a boy or young man of the Hylian race, originating from the fictional land of Hyrule, that appears as the protagonist of The Legend of Zelda series. While all the main characters share the same name, each Link is completely different and share similar characteristics, most notably the green hat and tunic.
Link Brainwaves
29th August, 0 replies

Today Nintendo announced that each Amiibo figure will cost $13, and that the first wave of Amiibos will...

26th August, 0 replies

Nintendo has been quiet on the Wii U's newest hit, Mario Kart 8, ever since announcing the Mercedes...

13th August, 0 replies

Hyrule Warriors is getting a big push in Japan, and with it launching on the 14th of August there, people...