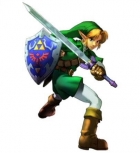 Edit Character
Link is the main character in The Legend of Zelda series of games.
While all the main characters share the same name, the Link you find in each game is mostly a completely different character. All incarnations of Link share some similar characteristics, most notably the green hat and tunic.
Link Brainwaves
24th October, 0 replies

Inspired by some of the most iconic characters of all time, the set of 10 cards are bound to amaze your...

16th October, 0 replies

Two new 3DS XL hardware variants will grace the continent of Europe with their presence in November. First...

12th October, 0 replies

Nintendo had quite the showing at NY Comic Con this year, with a great deal of titles on display. Many...