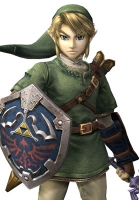 Link refers to a boy or young man of the Hylian race, originating from the fictional land of Hyrule, that appears as the protagonist of The Legend of Zelda series. While all the main characters share the same name, each Link is completely different and share similar characteristics, most notably the green hat and tunic.
Link Brainwaves
8 days ago, 0 replies

Hyrule Warriors, the Zelda-infused Dynasty Warriors-inspired hack 'n slash title developed by Team Ninja...

16 days ago, 1 replies

Nintendo revealed the first trailer for The Legend of Zelda on Wii U, featuring Link riding a horse and...

16 days ago, 1 replies

Nintendo has announced the latest instalment of the Legend of Zelda franchise, coming 2015 for the Wii...