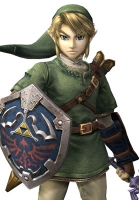 Link refers to a boy or young man of the Hylian race, originating from the fictional land of Hyrule, that appears as the protagonist of The Legend of Zelda series. While all the main characters share the same name, each Link is completely different and share similar characteristics, most notably the green hat and tunic.
Link Brainwaves
11th November, 1 replies

Nintendo have been pushing their Amiibo line hard as of late, with the number of games supporting them...

6th November, 2 replies

During Nintendo's Direct Livestream event last night, Nintendo announced that the N64 Classic, The Legend...

22nd October, 0 replies

Hyrule Warriors, the Zelda-infused Dynasty Warriors-inspired hack 'n slash title developed by Team Ninja...