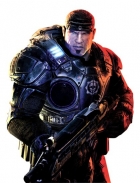 Marcus Fenix is the main protagonist of the Gears of War series which centers around Delta Squad, part of COG, the only human government left on Sera. Marcus is a "gear", a soldier of COG.
After being liberated at the beginning of the trilogy by his best friend and long-term comrade Dominic Santiago, Marcus is recruited as part of Delta squad to help deploy the light mass bomb. When their commanding officer, Lt.Minh Young Kim is killed in battle, Marcus is promoted to the lead Delta Squad. He then retains the position throughout the Gears of War trilogy and then goes on to play a pivotal role in helping humanity defeat the Locust Horde and Lambent forces throughout the course of the games.
Marcus Fenix Brainwaves
27th January, 0 replies

Microsoft today announced that it has acquired the rights to the Gears of War franchise. Although the...

28th January, 7 replies

Usual choices but mine is probably Solid Snake - he's just so damn cool and you can really feel like...
Share Marcus Fenix with others