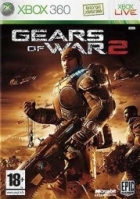 Gears of War 2 is a third-person shooter developed by Epic Games and published by Microsoft Studios, exclusively for the Xbox 360.
Like its predecessor, Gears of War 2 focuses heavily on action and visceral graphics as it tells the story of Marcus Fenix and Dominic Santiago, two COG soldiers who fight against an alien race known as the Locust. It also features co-operative and competitive multiplayer, including a mode called Horde, which has players work together to take down waves of Locust.
Gears of War 2 Brainwaves
29th April, 0 replies

Black Tusk's Studio Manager, Rod Fergusson, will answer questions about the next instalment of Gears...

28th March, 1 replies

E-Day would be "interesting to explore" said Joshua Ortega, former writer on Gears of War 2, in a recent...

27th January, 0 replies

Microsoft today announced that it has acquired the rights to the Gears of War franchise. Although the...
Share Gears of War 2 with others