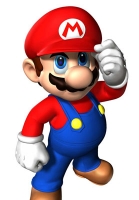 Mario is Nintendo's mascot and has appeared in over 200 games since he was created. His first appearance was in the original Donkey Kong in 1981, where he was simply known as Jumpman, but his name was changed to Mario in 1982, with the debut of Donkey Kong Junior.
He is the main character in the majority of games in the Super Mario series, which are platformers that usually entail Mario saving Princess Peach from Bowser, as well as stopping him from taking over the Mushroom Kingdom. He has also appeared in other games, including Mario Kart, Mario Golf and other sports games, as well as Mario RPG games.
Mario Brainwaves
15th May, 0 replies

While the Wii U isn't doing too hot in terms of sales, Nintendo has found great success with the launch...

7th May, 1 replies

Nintendo and Universal Parks & Resorts have teamed up to introduce the 'world of Nintendo' to Universal...

7th April, 1 replies

Nintendo has released just 3,000 limited edition Gold Mario Amiibo figures at Wal-Mart in the US. Unsurprisingly,...